PhilHealth Contribution Table 2021
The PhilHealth Contribution Table has been updated this year 2021 by the Philippine Health Insurance Corporation (PhilHealth). Members should be well-informed with this new premium contribution amounts especially the employed ones as well as the Self-Employed, Overseas Filipino Workers and Sponsored Members.
As most of the Filipino citizens are aware of, PhilHealth offers outstanding health benefits to its members which is a great help when medical assistance is highly needed. PhilHeath Members should be actively paying for their monthly premiums for who knows when you need the member's benefits the most.
Monthly or quarterly premium contributions of PhilHealth Members are based on fraction of salary range. The PhilHealth Contribution Table for Employed Members below shows the Total Monthly Premium based on Monthly Salary Range.
PhilHealth Contribution Table for Employed Members
On January 2021, PhilHealth have implemented the New Premium Contributions of the Employed Members. Before, there were a total 28 salary brackets from ₱8,999 and below up to ₱35,000 and above and each bracket has a different contribution rate. However, the new PhilHealth premium contribution rate this 2021 is fixed to 3.50% of the Monthly Basic Salary which is to be equally shared by the employers and employees. This comes with a salary floor of ₱10,000 and ceiling of ₱70,000. Check out the table below and the PhilHealth advisory.
| Monthly Basic Salary x 3.5% | Monthly Premium | Personal Share | Employer Share |
| --- | --- | --- | --- |
| ₱10,000 and below | ₱350 | ₱175 | ₱175 |
| ₱10,000.01 to ₱39,999.99 | ₱350 to ₱2,450 | ₱175 to ₱1,225 | ₱175 to ₱1,225 |
| ₱70,000 and above | ₱2,450 | ₱1,225 | ₱1,225 |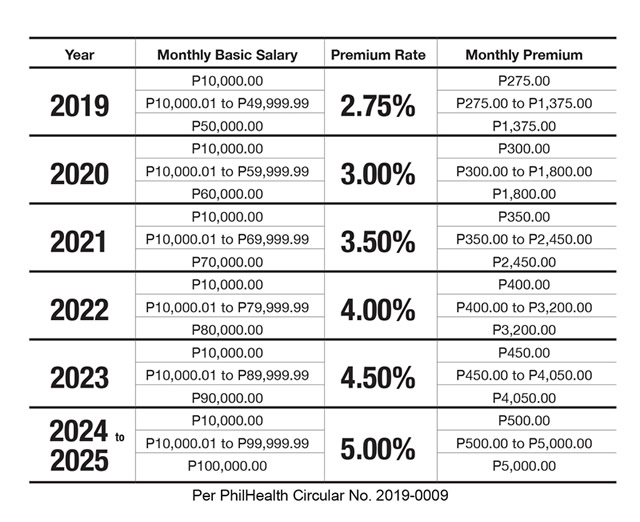 *source: PhilHealth
The total monthly premiums of employed members are being shared 50-50 by the employer (50%) and employee (50%).
For Employed Members of PhilHealth, this means that if your monthly salary is ₱20,000.00, the 3.5% of that is ₱700 (calculated as ₱20,000 * 0.035). 700.00 is your total monthly contribution. However, you don't have to pay for the whole amount since this shall be shared equally by your employer and yourself. You just have to contribute ₱350 and your employer's counterpart is also ₱350, a total of ₱700.
For Kasambahay Helpers, if your monthly salary is less than ₱5,000.00, your employer should solely pay your monthly contribution.
PhilHealth Contribution for Self-Employed, Overseas Filipino Workers and Sponsored Members
Self-Employed:
The premium contribution rate for Self-Employed Members with monthly income of ₱25,000.00 and below is ₱2,400 per year. While the contribution for Self-Employed Members whose monthly revenue is more than ₱25,000.00 is ₱3,600.00 per year.
Overseas Filipino Workers:
For Land-Based Overseas Filipino Workers, the premium contribution rate is ₱2,400.00 every year. The contributions can also be made in advance for 2 up to 5 years depending on your contract abroad. However, Sea-Based Filipino Workers have to pay salary-based rate following the premium contribution of Employed Members (check the table above).
Sponsored Members:
As the category implies, the sponsored members are those whose contributions are being paid by someone else, either an individual, private organizations or government agencies. The yearly premium contribution is ₱2,400 per year.